I am only explaining the basic settings !
Vanilla Botter Settings
Start your Vanillabotter an view this important setting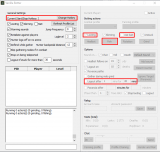 - deactivate the checkbox "Logout after" or set any time if you want to logout your bot after this counter.
- activate the checkbox Looting !
- if you want use Bait so aktivte the checkbox for that
- check your hotkey setting to start your bot
Basic settings for Vanilla Botter done, now we have to setup WOW !
WOW Client Settings
Start your Client and go to Graphic options
- activate Window Mode
- Sett your Screen resoloution to 800x600
- Login on Server and move to a Fishing area
- Put your Fishingroot in Slot 1
- Slot 2 is for Baits (if u want use Baits, dont forget to enable the box in Vanilla Botter)
Mouse and Screen kalibration

Very important step!
- Aligning the Screen, look at my Images for exampel
Attachment:

1.jpg [72.1 KiB]

Not downloaded yet
Attachment:

2.jpg [59.57 KiB]

Not downloaded yet
Attachment:

3.jpg [72.25 KiB]

Not downloaded yet
- Move your mouse in the middle of Screen
- Now you can start the Bot with the Hotkey
If the Mouse movement begins to stock:
- Change the resolution and back to 800x600
- Restart your World of Warcraft
Here is a short example video
https://www.youtube.com/watch?v=Tbk3o8ViejY
Hope I could help!
Have fun with fishing